Morning rises to work or study do not always instill joy and energy in us, rather the opposite - they make us feel overwhelmed and angry at the whole world. Stop suffering! We will tell you that a properly designed bathroom and harmoniously selected tiles will make your mood much higher, because everything that surrounds you affects a person psychologically, to one degree or another. And now we will tell you about how to choose the right design for the bathroom and toilet.
Choice of floors and walls
Today, shops in many cities are simply teeming with an abundance of all kinds of building materials, including floor and wall tiles. In addition, those same stores are ready to offer you a number of other options for decorating walls and floors in your bathroom. But all the same, the tile is in the lead among all this abundance. Its environmental friendliness and convenience when washing, wins in comparison with other materials.
In addition, repair masters still recommend using other design options for floors and walls.
For example, the simplest concrete floors are easy to maintain, you do not have to spend money on a lot of chemicals and other special care products. It is the style of minimalism that allows the use of concrete floors.
Hardwood flooring is a rare occurrence in a bathroom, but it does occur in many interiors. Classic - it is this style that allows you to lay a wooden floor in the bathroom. But do not forget that the tree easily absorbs moisture, and can go bumpy (over time), so we strongly recommend that you make sure of the quality of the products you choose!
Also, natural stone and marble are laid on the floor. The price of these materials, of course, is not small, however, it is worth it. Perfect angles, a wonderful combination of colors and an indescribable tactile sensation - all this is real with marble and stone in the bathroom!
Now about the walls. You can lay all the same tiles on the walls! True, it is a fun fact that today the once fashionable wallpaper in the bathrooms is back in trends. This is not surprising! Now you can buy waterproof wallpaper in almost any hardware store, which, again, will not swell and will give you coziness and comfort in the bathroom. If you don't want to cover anything at all, just cover the walls with acrylic paint or emulsion, so you will be fashionable and not pay extra money.
small bathroom design
First you need to understand what area your standard, classic bathroom should be. As a rule, an eon is no more than 3-4 square meters, and this area is quite enough to accommodate all the necessary equipment.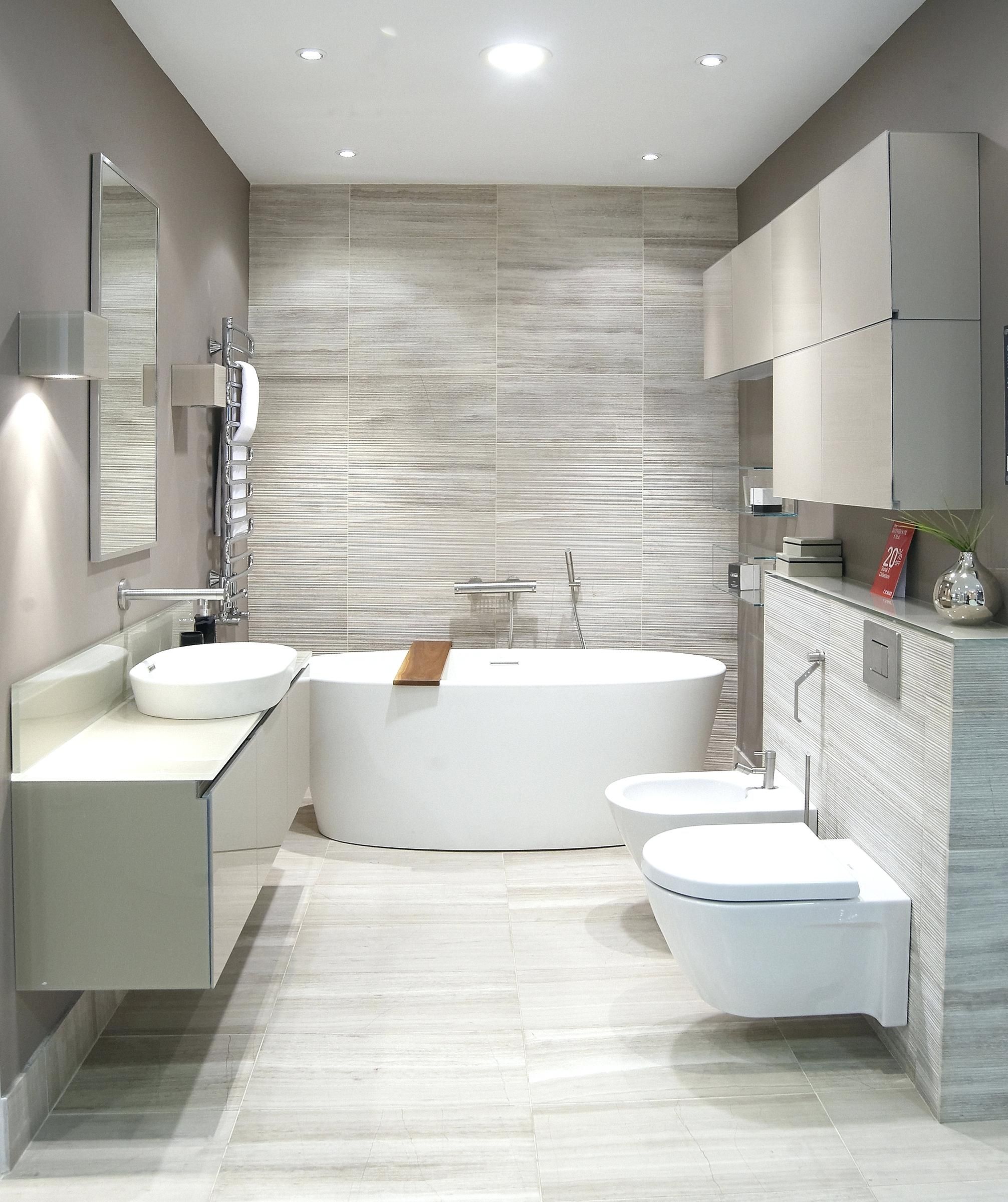 For example, the bathroom in the well-known Khrushchev may be somewhat smaller. It is a little over two square meters and will only include a sink, toilet and shower instead of a full bath. Here it is already necessary to think about its rational planning, namely, about its allocated area. Here's an example: you take your washing machine outside to put it in the kitchen or hallway. Be sure to think about the question of whether the transfer of utilities is required in this case.
Sink installation
Today, on the market of various sanitary ware, you can easily find sinks and washbasins of the most incredible shapes and designs. In addition to them, there is a free sale of a bathroom, toilets, showers and other necessary bathroom accessories. The average shell size is 35, 50, 55 and 60 centimeters wide. Incredibly, now you can buy sinks of square, rectangular, round and other shapes.
Shower or bath
Here it is impossible to say for sure: there is already what you like, what we like - there is no specific choice. At the same time, here it is necessary to understand the moment that 90% of your decision will depend on: firstly, the area of your room, and secondly, there are some contraindications for people with high blood pressure (hypertension). Contraindications are precisely in taking hot baths, so a shower will be the best solution for you, if you have any.
Enjoy the design of your bathroom with joy and comfort, remember that quality does not always equal expensive price, sometimes it works quite differently.
Good luck!